5 Things Families Love About Our Condos in Gatlinburg Tennessee
June 22, 2021
When you are planning your next family vacation in Gatlinburg, you will want to experience the full beauty of the Smoky Mountains. One of the most important decisions to make when planning the perfect family vacation is where to stay. In order to really feel a part of the mountain scenery, why not choose to stay in one of our amazing condos in Gatlinburg versus a chain hotel. There are many reasons why choosing to stay in our condos will enhance your stay in the Smoky Mountains.
1. Comforting Experience
One of the things that most people look for when trying to find a living space for their next vacation, the first thing they look for is a place where they will feel cozy and relaxed. Our condos in Gatlinburg offer that exact feeling for your entire family. Hotel rooms in big hotels can be small and cramped and they do not offer a great view of anything but the hotel parking lot. However, our condos provide a comfortable amount of living space with plenty of seating as well as a great view of the Smoky Mountains.
2. Balcony Over the River
When people decide to vacation in the Smoky Mountains, a lot of the reason is to be able to escape the busy city life and experience being close to nature. Our condos provide the perfect opportunity to do that with a private balcony that hangs right over the river. What better way to start your morning than by going out on the balcony with a cup of coffee and listening to the water running and the birds chirping. These sights and sounds are something that are not available with most of the hotels in the area.
3. Walking Distance to Downtown Gatlinburg
Once you are in Gatlinburg, you will discover that on the main strip in Gatlinburg there are many activities that can be enjoyed by the whole family. The thing that makes this even more enjoyable is when you do not have to worry about driving to the restaurants and events and do not have to worry about busy streets and traffic. You are able to walk straight from your condo to downtown Gatlinburg without ever getting in your car.
4. More Privacy
When you decide to stay at a hotel, there are often common areas such as the lobby, elevator, and breakfast area where you will have to encounter other guests. However, with our condos in Gatlinburg that are available, you will have much more privacy. Your living area in the condo has plenty of seating for you and your family to enjoy a nice, quiet vacation together while experiencing everything the Smoky Mountains have to offer, and your private balcony allows you to take in the relaxing sounds of the creek.
5. Numerous Amenities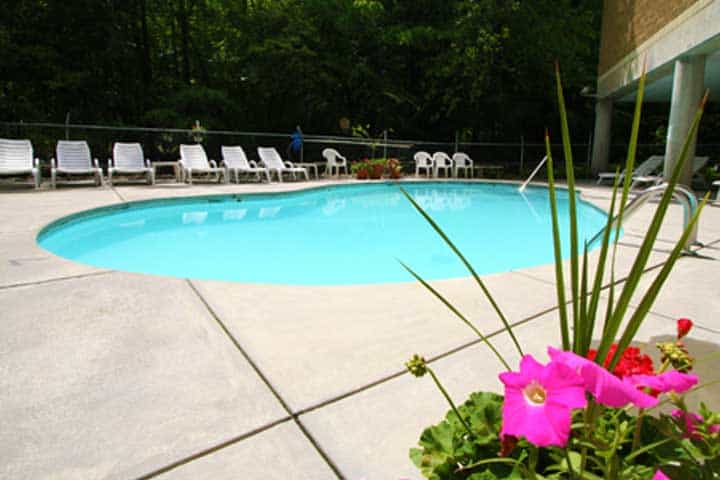 When people think of condos, they sometimes wonder what all amenities they offer versus some things that bigger hotels have to offer. However, with our condos in Gatlinburg, you will have all the amenities and necessities that hotels have to offer, which include both an outdoor pool and hot tub, and more. We also offer an exercise room, high-speed internet, washers and dryers and fully equipped kitchens!
Book Your Condo for Your Next Family Getaway
The next time that you decide to visit the Smoky Mountains, or if you have never visited before and want to for the first time, our Gatlinburg condos allow for you to enjoy the privacy and serenity of the mountains while still offering you all the amenities of a hotel. Not to mention, you will be able to further enjoy the pure beauty of all the nature that surrounds you. So, what are you waiting for? Book your next vacation today.