5 Things You Didn't Know About Our Downtown Gatlinburg Condos
February 19, 2020
While you may have heard some of your family and friends rave about the Park Place on the River, you might not know what makes our Gatlinburg condos so special! Whether you are unfamiliar with our location or want to learn more about what we have to offer, we're happy to explain what it's like to stay in our 2 and 3 bedroom condo units! Here are 5 things you didn't know about our downtown Gatlinburg condos:
1. A Perfect Location in Gatlinburg
Although Park Place on the River is located in downtown Gatlinburg, it is far enough away from the Parkway to avoid the traffic and pedestrian noise! You can enjoy a fabulous night of sleep while still being steps away from all of the action! Our condos are also just around the corner from the trailhead for the Gatlinburg Trail, where you can enjoy a scenic walk to the Sugarlands Visitor Center in the Great Smoky Mountains National Park. Our condos offer private balconies overlooking the river so you can enjoy the spectacular scenery!
2. Condos Include Fully Equipped Kitchens
If you are used to staying in a hotel with a kitchenette, or even just a microwave and a refrigerator, you will be excited to know our downtown Gatlinburg condos feature a full kitchen! You will find all of the convenient amenities of your own kitchen back home, including a refrigerator, stove, and microwave. This makes it easy to make meals throughout your vacation and saves a ton of money from dining out at restaurants. The refrigerator also comes in handy for keeping all of your beverages cold, which you will appreciate after a long day of hiking.
3. Outdoor Swimming Pool and Hot Tub Access
When you stay at the Park Place on the River during the summer months, you have exclusive access to our refreshing outdoor swimming pool and hot tub! Whether you start your day with a morning swim or take an afternoon break from shopping in downtown Gatlinburg, you will appreciate the pool just steps away from your condo. If you prefer the bubbling waters of a hot tub, you can look forward to a soothing soak on every day of your vacation.
4. Washers and Dryers in Each Unit
You can pack light for your trip to the Smokies because our downtown Gatlinburg condos feature washers and dryers in every unit. Whether you want to dry your swimsuit or do a full load of laundry, these amenities come in handy! Some guests even do laundry right before going home so they have a suitcase full of fresh clothes at the end of the trip.
5. Free Wireless Internet Access in All Rooms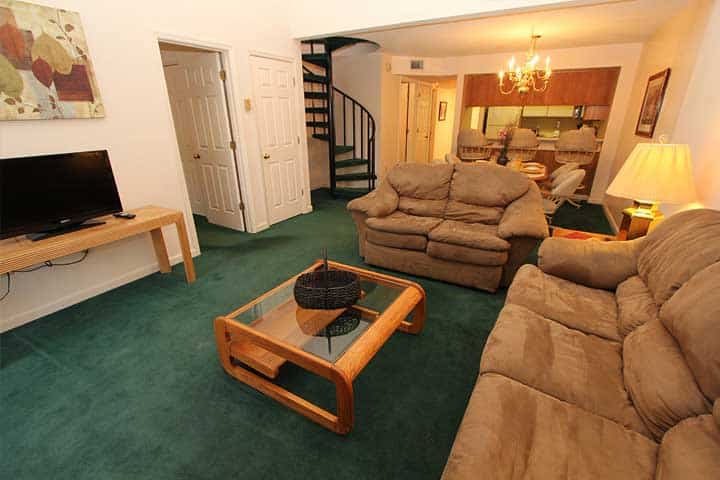 Whether you are traveling with your iPhone, iPad. or another device, you can stay connected at all times with our free wireless internet access in all rooms. This makes it easy for you to find out information about the Gatlinburg area, such as directions, attraction hours, and the latest weather forecast. You can also text your friends back home and upload pictures from your vacation, as well as make future reservations for a stay at the Park Place on the River!
Check out all of our downtown Gatlinburg condos today to plan your vacation to the Great Smoky Mountains! We look forward to seeing you soon at Park Place on the River!