4 Reasons to Stay in a Gatlinburg Condo With a Jacuzzi Tub
February 12, 2015
Park Place on the River offers a wonderful selection of 2 and 3 bedroom condos for your Gatlinburg vacation. In addition to fantastic amenities such as private balconies over the river, mountain stone fireplaces, and fully equipped kitchens, our condos feature a master bath with a Jacuzzi tub! Here are four reasons you will love staying in a Gatlinburg condo with a Jacuzzi tub:
1. Relaxing After a Hike
After a long hike through the beautiful scenery of the Great Smoky Mountains National Park, your leg muscles are sure to be tired from all that exercise! Guests at Park Place on the River can look forward to returning to their condo's Jacuzzi tub to soak their muscles and relax in the evening. You'll feel better in no time and be ready to hit the trails again the next day.
2. Romantic Ambiance
If you are enjoying a romantic getaway at Park Place on the River, slide into the Jacuzzi tub with your sweetheart to cuddle up in the bubbles. Simply kick back for a few hours as you enjoy the soothing sensation of the jets and this special time together with your loved one.
3. Reduce Stress
By unwinding in your Gatlinburg condo with a Jacuzzi, you can reduce stress and put your body in relaxation mode. Sit back in the Jacuzzi as you sip a favorite drink and enjoy the mental benefits of feeling at ease.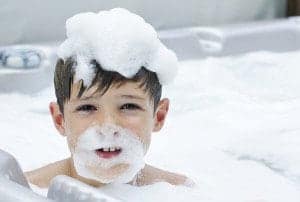 4. Improve Circulation
When sitting in a Jacuzzi tub, the hot water and bubbles cause your body temperature to rise, leading to dilated blood vessels. As a result, your body will have improved circulation, leaving you feeling energized and refreshed.
Visit our Gatlinburg Condo Amenities page for details on all of the great features you'll find in your condo!