Top 4 Reasons to Spend Spring Break in Our Gatlinburg TN Condos for Rent
February 27, 2018
If you are looking for the perfect place to stay for a spring break vacation in Gatlinburg, check out Park Place on the River! Our beautiful condos feature 2- and 3-bedroom units where you and your family can comfortably spread out and enjoy the convenience of being within walking distance to downtown Gatlinburg. Here are the top 4 reasons why you should spend spring break in our Gatlinburg TN condos for rent:
1. Close to Area Attractions
Park Place on the River is situated just steps away from some of the top attractions in Gatlinburg, including the Aerial Tramway to Ober Gatlinburg, Ripley's Aquarium of the Smokies and the Hollywood Star Cars Museum! If you love hiking, head just around the corner from our hotel to River Road where you will find the trailhead for the Gatlinburg Trail. This scenic trail runs for 1.9 miles one way to the Sugarlands Visitor Center in Great Smoky Mountains National Park, where you can explore natural history exhibits and enjoy a 20-minute film about the park. The spring months are a perfect time to visit the park, as the weather is pleasant and the gorgeous local wildflowers are starting to bloom!
2. Full Kitchens in Every Unit
When you spend spring break at our Gatlinburg condos for rent, your family can take advantage of our fully equipped kitchens with every modern amenity of home! It can quickly get expensive to feed a family while on vacation, so plan some meals in the kitchen where you can save both time and money from dining out at restaurants. The kitchen also comes in handy when you just want to reach for a cold drink or a snack while lounging in front of your condo's fireplace. The only thing you need to bring from home is any grocery items, which can also be picked at some of the local grocery stores in Gatlinburg, Pigeon Forge and Sevierville.
3. Comfortable Living Rooms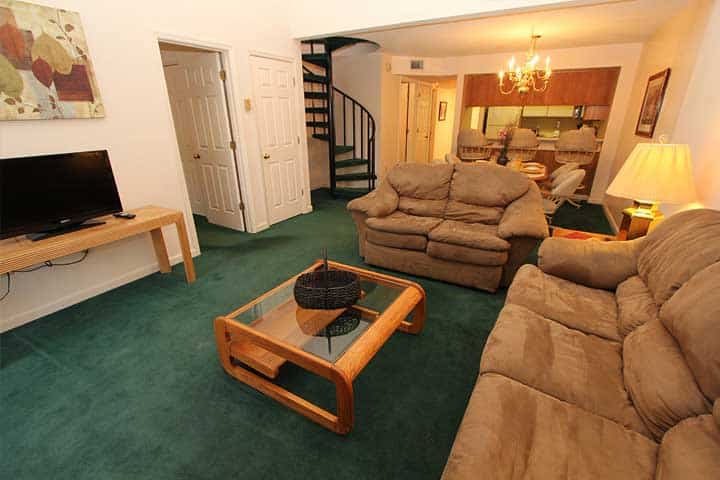 The Gatlinburg condos from Park Place on the River feature comfortable and large living rooms where you can spend some quality time with your family each evening! This is a great place to unwind after a busy day in the Smoky Mountains, watch your favorite television program or play a game of cards with the kids. With such a comfortable living room and separate bedrooms, it is no wonder why families on spring break prefer to stay in our condos rather than in a cramped hotel room!
4. Free Wireless Internet Access
We are pleased to offer free wireless internet access in all of our condo rooms so that you can stay connected throughout your vacation! This makes it easy to get the latest weather forecasts, research hiking trails, find attraction hours and more. The complimentary wireless internet access also lets you keep in touch with your extended family and friends to let them know what a blast you are having during your spring break at Park Place on the River!
Check out all of our Gatlinburg TN condos for rent today to plan your spring break getaway to the Great Smoky Mountains! We look forward to seeing you soon at Park Place on the River!