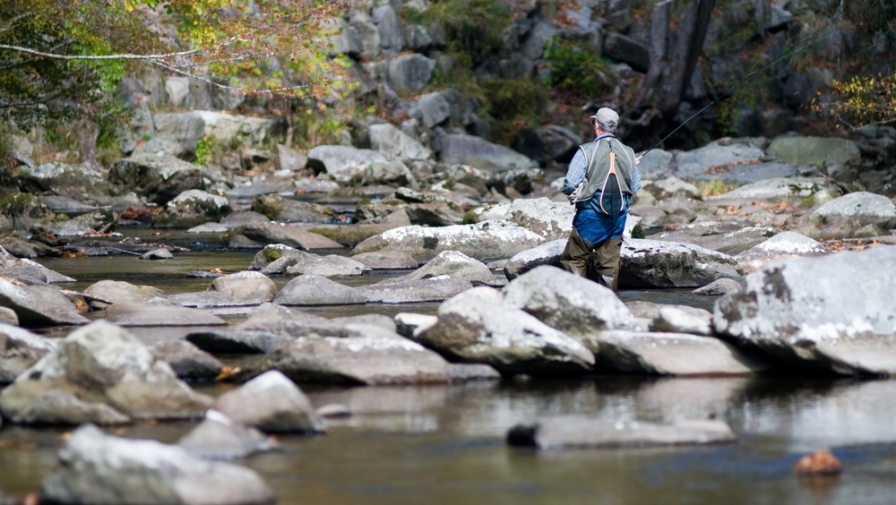 6 Great Places to Go Fishing in the Smoky Mountains
March 23, 2021
Fishing in the Smoky Mountains is a very popular pastime. It's a fantastic idea for bonding with your kids, friends, and even significant other, and it gets you outside having fun! You can be a novice or expert, either way you'll find a stream in the Smokies that you can fish out of.  You can fish in many places in the Smokies, but here are 6 of the great places to go fishing in the Smoky Mountains:
1. Herbert Holt Park
Herbert Holt Park is located inside of Gatlinburg, so it will be a short drive from our condos. This park is perfect to be bring your kids to, as it is a children's only fishing spot. So if they are just starting out, it's a great place to learn! Herbert Holt Park also has the only handicap-accessible fishing pier in Tennessee. Moreover, this easy-going trout fishing spot is great for children and handicapped visitors.
2. Mynatt Park
Mynatt Park is another "children-only" fishing spot in Gatlinburg. Here you can walk down along the stream and choose any spot you think will be perfect, or you can fish off of the bridge! You can easily park the car, get out, set up, and get right to fishing!
3. LeConte Creek
Take a drive up Cherokee Orchard Road to just past the National Park's new office, and you'll find LeConte Creek. This is a great place if you want to be surrounded by nature, but not travel far out of the way either. Here you can catch rainbow and brook trout. This area is open to all ages.
4. Budley Creek
Budley Creek is on Highway 73 and is typically overlooked as a fishing spot in the area. This spot can require a little more work making your way through the lush woodlands. However, if you decide to take the challenge of getting back to the river, many fishermen have a great time catching rainbow and brook trout in this area. This area is also open to all ages.
5. Abrams Creek
You'll find Abrams Creek in the Cades Cove area. The drive and hike to this area will set the perfect peaceful tone for a fishing excursion. A local favorite spot along Abrams Creek is the Horseshoe. This section might require wading in some water, but most fishermen won't mind once they snag some of the large trout and smallmouth bass that dwell in these waters!
6. Douglas Lake
Douglas Lake is a fantastic place to fish for all ages and skill levels. If you have the time to spend all day fishing or several good hours, you'll have a good time out here. You can find a wide variety of fish in the lake like largemouth and smallmouth bass, trout, crappie and bluegill.
Fishing in the Smoky Mountains does have rules and regulations, and a license is required. However, you can buy a day's pass instead of a long-term license. To learn more about fishing in the area please click here!
Looking for other places to go fishing? Check out these Gatlinburg fishing spots!
Once you've decided on your catch of the day after fishing in the Smoky Mountains, you can bring it back to your condo in Gatlinburg to have a delicious meal in your condo's kitchen! Take a look at our condos and their amenities now so you can visit sooner and start having fun fishing!