Top 5 Places for the Best Breakfast in Gatlinburg You Don't Want to Miss
June 20, 2021
In order to prepare for a day of fun in the Smokies, you'll need a delicious meal to fuel your adventures. Luckily, there are plenty of great places to stop for a delicious bite. From fluffy pancakes of all kinds to an assortment of mouthwatering breakfast platters, you'll find it all here! To help you plan for an amazing trip, here are 5 of the top places for the best breakfast in Gatlinburg.
1. Pancake Pantry
As Tennessee's first pancake house, you can always count on Pancake Pantry to deliver all of your classic favorites! This eatery offers a variety of pancakes, all made from scratch and served with real butter and fresh whipped cream. If you're more of a waffle person, you can have those too along with farm fresh eggs, golden hash brown potatoes, and more.
2. Bennett's Pit Bar-B-Que
Bennett's Pit Bar-B-Que is known for its mouthwatering barbeque, but it's also quite famous for its all-you-can-eat breakfast bar in the Smokies. It includes a Belgian waffle bar, pulled pork, eggs, sausage, bacon, french toast, pancakes,and so much more! Not to mention, it's affordably priced, and kids ages 2 and under can eat for free.
3. Atrium Pancakes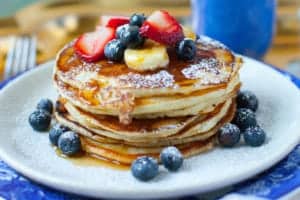 Atrium Pancakes is known as a favorite spot for locals and visitors alike to come for fluffy pancakes, 24 different types to be exact. If you aren't sure what you want to try first, you can't go wrong with the baked apple pancake. This tasty treat is stuffed with warm apples, then cooked until golden brown and served with butter and syrup.
4. Crockett's Breakfast Camp
Another one of the top places for the best breakfast in Gatlinburg is without a doubt, Crockett's Breakfast Camp! You and your family are sure to love the rustic, cabin-themed eatery that offers a modern take on classic Southern breakfast dishes. This restaurant is known for its amazing breakfast platters and huge portion sizes.
5. Donut Friar
If you're a donut fanatic, there's no better place to go for breakfast than the Donut Friar. This popular shop is located in The Village Shops in Gatlinburg and is known for having the sweetest treats in town. The smells from chocolate glazed donuts to cinnamon twists are impossible to resist. While you're there, you can also stop by all of the other shops and pick up a few souvenirs to remember your visit by.
Where to Stay
If you're looking for a relaxing and conveniently located place to stay, look no further! You can be near all the best places to eat breakfast in Gatlinburg and tons of other attractions. From Jacuzzi tubs to full kitchens and other fabulous amenities, our condos in Gatlinburg have everything you'll need for a fun-filled experience.
Now since you know all about the top places to grab the best breakfast in Gatlinburg, you'll always have somewhere in mind for a delicious bite to eat. Be sure to check out all of our condos in Gatlinburg so you can find the perfect place to stay while you're in town.